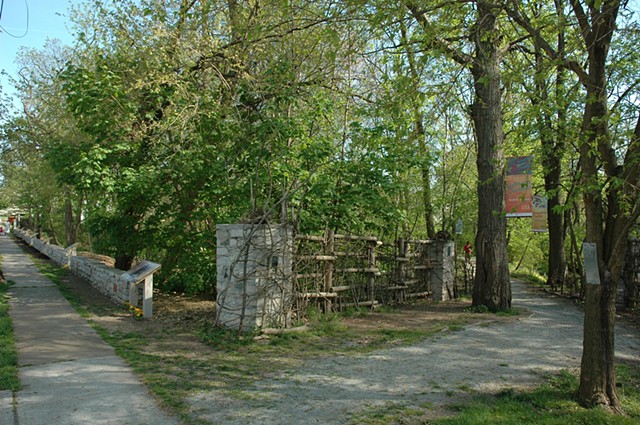 Fycke Lane Entrance to Teaneck Creek Conservancy
wood, vines, recycled concrete, digital graphics, ceramics, zinc plates
350' x 30" x 6'
2012
Richard Kirk Mills, Blair Hines, Jane Ingram Allen, Valentina Dubasky, Frank Ottochian and students.
This place-making feature is intended to mark and protect the Conservancy's 350 foot long Fycke Lane public face; celebrate and reveal the land's deep cultural and environmental history through interpretive signage and student artwork; provide visual linkage to neighboring schools and the community; and to provide a point of welcoming entrance into the Conservancy. The Conservancy is located in the northernmost reach of the NJ Meadowlands in Teaneck NJ.
About the Teaneck Creek Conservancy:
From 2000 – 2006 I was artist-in-residence at the Teaneck Creek Conservancy. See http://www.teaneckcreek.org
The TCC is a partnership with the Township of Teaneck, Bergen County,
New Jersey, Rutgers University, local schools and the environmental,
history and art communities to create a 46 acre nature preserve on a
former landfill. Interpretive and place responsive art and eco-art that
provides reconnection and healing; involvement of the community in
cutting edge wetlands restoration and stewardship; the establishment
of outdoor classrooms and overlooks are key components of this
ongoing project.
My role at the Conservancy included conceptual framing, interpretive
graphical place making; research and archiving of historic local maps,
photos, images, history and text; liaison between artists, schools, the community and place narratives. These narrative threads are available
to all who may choose to delve deeper into any of their aspects.
I currently serve on the Conservancy Eco-art Committee, which guides
the program of art grant applications, residencies, exhibits and site installations.